preface \  reflection 12
Catherine Baba
Stylist, Creative Consultant, Costume Designer, Muse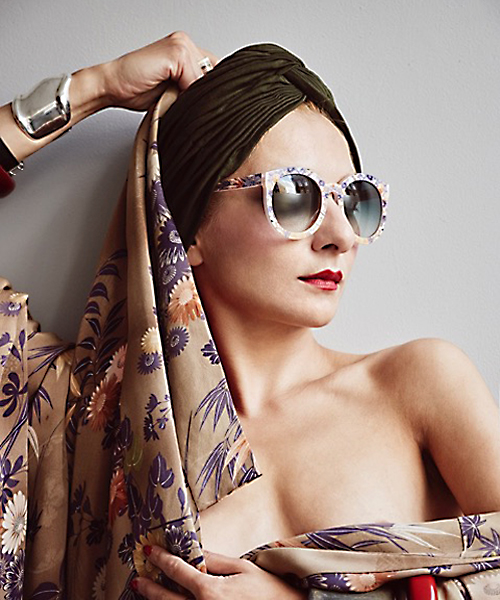 Renowned for riding her bicycle through Paris in lavish self-styled outfits and vertiginous YSL heels, Catherine Baba's life and career have soared into a constantly evolving creative adventure.
Catherine left the western suburbs of Sydney and headed to Paris to study at the famous Parisian fashion school; Studio Berçot.  Baba went on to debut at the Chanel Couture Atelier and then become a creative consultant for esteemed labels such as Ungaro, Givenchy and Balmain, as well as independent designers Jeremy Scott, Andre Walker and Marano.
Her work as a costume designer on the film My Little Princess earned her a nomination for Best Costume Design at France's prestigious César Awards in 2011.
In 2012 Baba produced a couture costume jewellwry collection for Gripoix and designed an exclusive dress - 'La Baba' for VOGUE Fashion Night Out in Paris. 
She collaborated with Italian eyewear label Friend Of designing a range of sunglasses that are stocked at the iconic Parisian boutique Colette.
As a stylist, Catherine has worked for most of the world's prestigious publications Vanity Fair, Dazed & Confused, VOGUE (U.S., Japan, China), Tank, Glamour (Italy), VOGUE Gioello, Interview, 10, Paper and Stiletto, amongst others and is now regarded as a social celebrity, seen in many a front row and a regular in best dressed lists and in editorial features around the globe.
Ode... The Birds
 


Parrots On Shoulders Pirates Black Albinos Swaning


Oxford Parakeets City Night Pyrotech Crawling


Eclectic Fruity Batting

 Midnight Tawny Owling

The Celebration Of Nations

The Tree Trunks Fulfilling
Watsons Wattle Lady Wooiing


We Were Laughing
Kookaburras & Doves
We Were Miner & Lyrebirding

Never Burning



Rosellas Flashing Feathers Fantasia


Bellbirds Ringing Rhythmic Rhymes
Sounding In Stereo Schematics
Midnight Magpie Larking & Black Birding

We Were Galahing To The Flaming Morning Sun

We Were Emuing To The Electric Midnight Moon
Divine Devotional Dreamtiming.