preface \ reflection 13
Damon Young
Philosopher, Author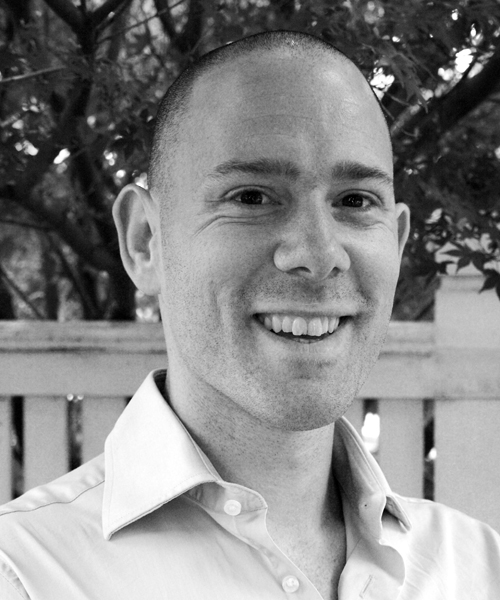 Damon Young is a prize-winning philosopher and writer. As a regular spokesperson and columnist for titles such as The Australian, The Age, The Sydney Morning Herald, ABC and BBC, Young is a refreshingly pertinent voice among contemporary Australian philosophers.
Damon is the author of seven books, including The Art of Reading, Distraction, Philosophy in the Garden and How to Think About Exercise, which have been published locally and internationally, and translated into multiple languages. He is also the author of the popular children's books My Sister is a Superhero, My Pop is a Pirate and My Nanna is a Ninja.
Damon won the 2013 Australasian Association of Philosophy's media prize for his public writing and broadcasting. He is an Honorary Fellow in Philosophy at the University of Melbourne and founding faculty at The School of Life, an establishment dedicated to developing emotional intelligence through the help of culture and philosophy.
I am fifteen and bloody.
My machete is red: with blackberry juice.  My mate and I are hacking a path from home, on Melbourne's Mornington Peninsula, to the beach. Thorns have opened up my hands and neck. I wince and swear with each rip, but the pain is weirdly pleasurable. It's a ritual of liberty that begins with climbing and cutting and ends with awed envelopment in the bay: in the third reef's deep water, blinking at the blurry nothingness.
Over three decades later, I live in Melbourne's eastern suburbs, alongside Asia-Pacific brand managers and corporate accountants but these places of my adolescence are retained.
The point being simple: my ideas and impressions cannot be neatly cut off from the landscapes of my youth.
They left marks in the psyche.  (And in the skin, too. I still have scars from a night out in Frankston. Class and status are as seminal as the elements.)
But I am not simply shaped by them; not molded like putty or stamped like steel. Part of my psyche freely keeps these places alive; keeps them as something to forget or remember, mock or celebrate.
As philosopher Friedrich Nietzsche put it, we do not simply have bodies – we are bodies. And as bodies, we are always in a to-and-fro with place.  The spikes of a blackberry bush, the sand divot of a flounder fleeing, the fist of a bored Karingal thug – these are all experienced through the span of hands and sight, and the things we reach for and squint at.  In this, the body is an opening to the world: vulnerable and fragile. Think of the words: 'sensation' and 'sensitive' – they have to do with being stuck in a world that touches us, whether we like it or not.
In other words, place is something like a life-long tap on the shoulder: an invitation we can decline or accept, but never quite ignore.