preface \ reflection 15
Omar Musa
Rapper, Poet, Author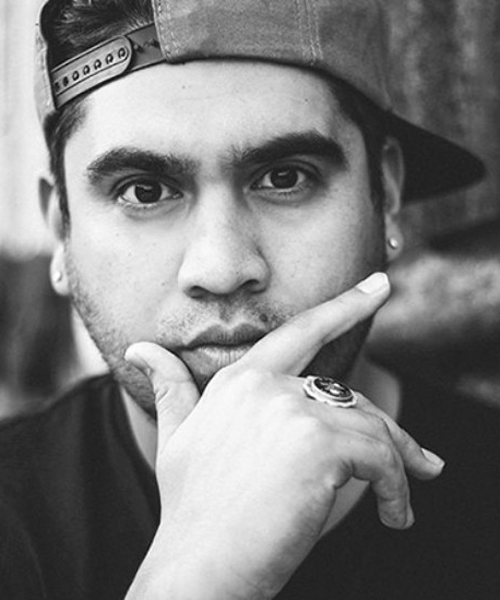 Omar Musa was born in 1984 in Queanbeyan N.S.W. to an Australian art journalist and a Malaysian poet and went on to study at the Australian National University and the University of California, Santa Cruz.
Retaining a strong pride in the landscape of his youth, Omar raps his own flavour of beat poetry in a clear and unique voice, tackling local issues and personal reflection with a lyrical, yet brutal honesty.
 
Winning the Australian Poetry Slam 2008 and the Indian Ocean Poetry Slam 2009 Omar went on to release two solo hip-hop records The Massive EP and World Goes to Pieces.
His most recent book Here Come The Dogs (2014) received wide praise from the public and critics alike, and garnered the attention of prominent Scottish author Irvine Welsh, who in turn wrote the foreward to the book.
Here Come The Dogs saw Omar nominated for several awards, including The Miles Franklin Literary Award 2015. That same year The Sydney Morning Herald and The Guardian Australia listed him as one of the standout young novelists of the year.
Prior to the success of Here Comes the Dogs Omar self-published two poetry books The Clocks (2009) and Parang (2013). The latter deals with his Malaysian heritage, racism and migration and includes his acclaimed poem My Generation.
Omar's fusion of hip hop, music and poetry has led to many collaborations, including touring with the legendary Gil Scott-Heron and an album with the international duo MoneyKat.
Omar Musa continues to reside in Queanbeyan.
Queanbeyan, NSW. Struggletown. The 2620. My hometown.
To others, it might seem banal, a satellite town to a capital city renowned for its dullness, but there's a lot more going on here. Sketched out in orange brick and asphalt, gum leaves and shale, ancient river and skateparks, it has shown me its beautiful and ugly face, its flavours, its laughter, its crime. It is a unique mix of cultures - Anglos, Aboriginal folk, Islanders, people from the Balkans.  It's not quite urban, not quite rural, and indeed, the town's motto is "Country Living, City Benefits".
Places like this don't play much of a part in the national mythology, or in Australian letters. That's what the beach or the bush seems to be for. Yet as I was growing up, I saw stories going on all around me - funny stories, tall stories, tragic stories, stories with as much drama as a Hollywood blockbuster.
I decided at an early age that I would own the fact that I was from Queanbeyan, that I would mine my hometown for poetic gold.
 
It was my way of saying "we may be small, but our stories matter."
Being from a small town gave me a healthy chip on my shoulder that has served me well. It taught me fearlessness and to create my own style independently, rambunctiously, hopefully in a manner that is not parochial but helps to fight against that still-pervasive cultural cringe. 
This town is my mirror, my telescope to look at the world through, and at times, my crystal ball.