preface \ reflection 14
Ryan Lobo &
Ramon Martin
Fashion Designers, Tome NYC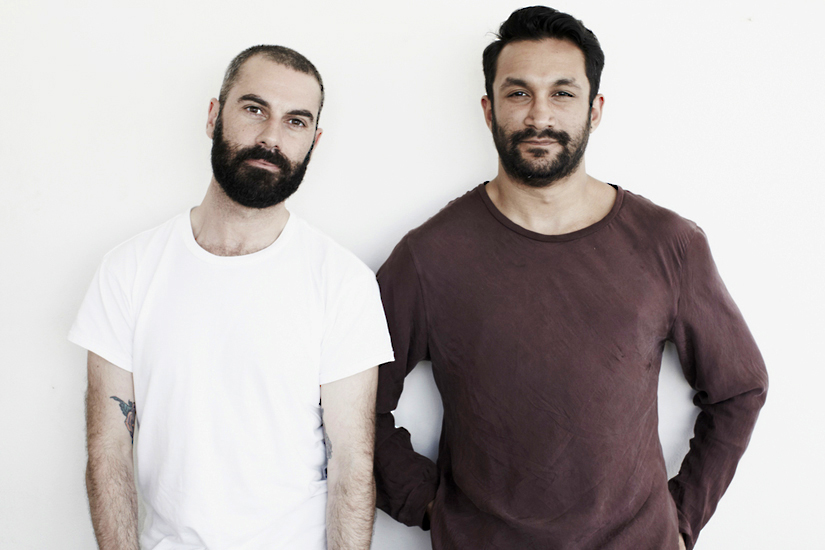 At 19 years of age, while studying design together in Sydney, Ryan Lobo and Ramon Martin made a pact that one day they would work together on their own fashion label.
Each forged their respective paths after graduation, Martin going on to design positions in Italy, Paris and the U.S. for labels such as Alberta Ferretti, Gaultier, J. Mendel and Derek Lam, while Ryan remained in Australia as a buyer for high-end fashion stores Robby Ingham, Belinda and The Corner Shop and on to became one of Australia's most prominent fashion stylists, brand consultant and fashion editor of a local publication.
In 2010, Lobo and Martin reunited in New York City with a mature perspective and razor-sharp vision  - and staying true to their pact, TOME NYC was born.
Their launch collection, Fall 2013, won them the Ecco Domani Fashion Foundation award, and put them in the illustrious company of previous winners Alexander Wang, Rodarte, and Proenza Schouler.  The cash prize also set them up for their first showing at New York Fashion Week.
 
Further acclaim followed their shoe collaboration with label ambassador and actor, Sarah Jessica Parker and the duo becoming finalists in the prestigious CFDA VOGUE Fashion Fund, endorsed by Anna Wintour, Editor-in-Chief of VOGUE U.S. A constant flow of celebrity and industry support have since added to TOME's success and Ryan and Ramon's dream of accessing a global market with their personal vision was swiftly fulfilled.
RYAN LOBO
When I think of growing up in Australia, I think of my Indian-born father bringing home crates of the first mangos of the season, my mother cutting them into cubes while still in the skin for us to devour and being plagued by mango fibre in our teeth for hours after that.  
Our neighbours had an above-ground pool (the kind you found in most suburban yards back then) and we would swim in their pool every summer and ignore them during the winter. Afternoons would be spent playing group games such as tips, bullrush and elastics, all the while trying to avoid the bindis out in the yard or on the nature strip. I was mad for Australia's Wonderland, the Blue Light Disco and went crazy at Schoolies.
What I also remember most about my Australian roots is trying not to stand out and desperately needing to at the same time. I remember being Indian and different and exotic and smart and weird and never truly fitting in. I remember feeling an 'other' for the longest time, and finally making peace with that when I realised people actually liked it… I grew to like it too. 
I think that growing up in this way helped influence my appreciation for difference, for authenticity and made me curious for everything I didn't know.
RAMON MARTIN
Being raised in Australia, I think of a childhood spent at the beach, warm weather and a healthy, happy city life. When I travel and see children living in other cities - grey, concrete, cold weather and overpopulated spaces - I am grateful and consider myself lucky.
I feel that this has taught me a sense of appreciation, something that I hope influences the way I work, helps me appreciate the people I work with and the things I get to experience as a designer.
There is a positivity and lack of cynicism that Australian people have when experiencing something new and different.
I think that growing up in this way helped with building a life and career in America.
Positivity is what feeds creative people - possibility and opportunity is what new design is all about.